Intercultural Eve
March 20, 2018
More than 30 Erasmus students attended the 1st Intercultural Eve this semester.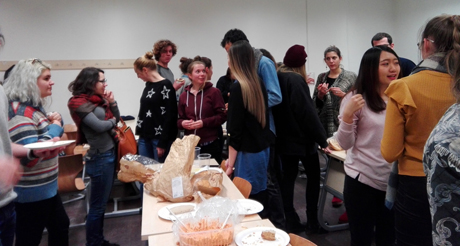 The event was preceded by the Orientation Week, during which the foreign students had learned about Pázmány Péter Catholic University and about the Faculty of Humanities and Social Sciences in particular. Some of them had not been able to participate in the Orientation Days, as they arrived right at the beginning of the semester.
For this semester almost 70 Erasmus students came from 15 different countries, among them there are 6 people who had already elongated their stay and study in Hungary at PPCU for the whole academic year.
The organizers and mentors prepared cold buffet for the guests. The theme of the first Eve was Hungary, thus the students could taste traditional Hungarian dishes and snacks, such as körözött, pogácsa, szalámi and piros paprika. All of the offered meals were really popular.
Before they got acquainted with some parts of Hungarian cuisine, Erasmus students watched presentations of the country of their choice.
The short presentations about Hungary were interactive, students were asked to participate throughout. They started with the first impressions of our country, then the students learned the brief history of it. Besides the capital city, Budapest, our remarkable countryside was also part of the presentations. Funfacts played a big role in them, as well. For example a slide titled Never say these to a Hungarian – if you wanna stay alive. The slides also included topics of the uniqueness and difficulty of the Hungarian language and slang. The guests found this interesting and quite enjoyed it.
Some of the students had already known each other, they were sitting and talking in big groups. However, they were open-minded and friendly towards the others, as most of them still seemed to be newcomers.
In conclusion, we can say that although they are a diverse group, they are going to get on even better with each other as they spend more time together, and by the help of events like Intercultural Eves, this process will become a lot quicker and easier.