Head of Consulate at the Representative Office of Taiwan in Hungary visits Faculty of Humanities
July 2, 2009
Terry Yu-Hwei Chang, Head of Consulate at the Representative Office of Taiwan in Hungary visited the Faculty of Humanities of the Pázmány Péter University. The aim of the visit was to prepare the autumn programme of Mr. Stanley Kao, Head of the Represe
Terry Yu-Hwei Chang, Head of Consulate at the Representative Office of Taiwan in Hungary visited the Faculty of Humanities of the Pázmány Péter University. The aim of the visit was to prepare the autumn programme of Mr. Stanley Kao, Head of the Representative Office. Mr. Kao is going to hold a lecture on Taiwan at the Faculty.
Receiving our guest was Dean Máté Botos, Vice-dean responsible for the international relations Éva Martonyi, head of Centre of International Studies János Jany, chinologist Gergely Saláth, and head of Office for International Relations Ildikó Ruzsits.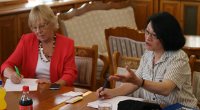 The meeting took place at the Dean's Office. The parties discussed the date and details of the lecture, as well as an exhibition related to the event, and the possibilities of building further relations and cooperation between the Representative Office and the Faculty, including a possible Taiwanese scholarship for Hungarian students.

After the meeting, our guest toured the Campus, led by foreign affairs assistant Károly Kopasz. Terry Yu-Hwei Chang was absolutely impressed by our Campus and she is looking forward to her return along with the Head of the Representative Office in October.