Daniela Blaimer
October 8, 2019
Germany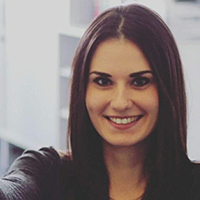 Please, tell us about yourself. Where are you from, what is your major, and what do you study here? Anything, that you think could be important.
Hello, my name is Daniela Blaimer and I'm 26 years old. I'm from Germany. I live in a town, called Ingolstadt. That's near Munich. I study journalism in the 5th semester at the "Katholischen Universität Eichstätt-Ingolstadt". We have to do a semester abroad in the 5th semester, that's why I'm in Budapest now. :)
Why did you choose to come to Budapest and Pázmány?
I choosed Budapest, because I was here for a Formula 1 race in 2009. We lived in a nice hotel next to the Donau at the Pest side and it was an amazing weekend. Even then I found, that Budapest is a wonderful city with beautiful buildings and very friendly people.
And the Pázmány university is our partner university for journalism, so it was clear, that I will study at this university.
How do you like Pázmány Péter Catholic University so far?
I like it a lot, because it is a small university with small classes, in which I feel cosseted. The lectures can responsive to individual needs and they help a lot.
Do you enjoy studying here?
I really enjoy studing here, because I found a lot of friends so far.
Is this your first time in Budapest? Have you travelled a lot?
As I said, it is not my first time in Budapest, I'am here for the second time. I travelled a lot in the last years, because my boyfriend is a flightattendant at Lufthansa, so I can travel very cheaply around the whole world.
How much information did you have about Hungary before?
Honestly I did not have so much information before my trip, but a friend of my family is from Budapest and he helped me searching my apartment and finding my way in the city.
What were your first impressions here?
For me, it is a beautiful city, but a little bit loud and dirty. But I think, this is normal for such a big city.
Have you tried any typical Hungarian dishes or drinks? How do you like them?
I tried the goulash soup and the chimney cake and I loved/love it. But every second day I go to the gym, because hungarian food is not a light cuisine. :)
Do you miss anything from your hometown?
Before my departure, my family and I got a little puppy. He is so cute and I miss him a lot.
Are you content with the programmes and social events the university organizes for international students?
Yes, I have the Erasmus life card and I use the discount with the card. I join Erasmus parties as well. The best was the boat Party so far.
Have you learned any Hungarian words yet?
I think the most important hungarian word for students is "Egészségedre!" :DThat means "cheers!" and I used it very often.
What is a goal of yours?
My goal in life is to have a healthy family and a wonderful job, that makes me happy every day. That is all I need.