Gabrielle Lefeuvre
April 3, 2018
France, Erasmus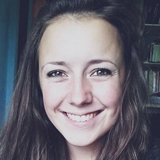 When did you arrive here?
I arrived in August with my parents.
In which city are you studying here?
Only in Budapest.
Why did you choose Pázmány Péter Catholic University?
This school was the one linked to my university in France.
How do you like the university so far?
I really like it, it's weird because I really don't have a lot of courses but those I have I really enjoy.
How much information did you have about Hungary before?
Nothing, it was a huge discovery for me. I already had heard some stuff about Budapest but not so much.
What were your first impressions here?
I arrived in summer so it was hot. It's a very pretty city with a lot of things to visit and see.
Is there anything you don't like so far?
Maybe the weather. I was so hot in summer and so cold in winter, I'm not used to these big changes.
What do you like the most about Budapest?
Living here. There are so many students here and everyone is very easygoing, so it's always a pleasure to meet people.
What is your hometown?
I'm living in Rennes, in France.
Do you miss anything from your hometown?
Not really, I know that I'm here only for one year so it's okay. Maybe I miss some food from my country.
Have you learned any words in Hungarian so far? If yes, give some examples, please.
Yes, a few. But I have not idea of how to write them. Jó napot kívánok, sziasztok, köszönöm, bocsánat, egészségedre, etc.
What is your major?
I am studying International Relations.
Why did you choose this major?
Because I study this in France.
Is there something new or interesting that you have learned in your time here so far?
Yes, a lot. In my course I learn a lot more than in France, I travelled a lot so I learn about geography, politics in Eastern Europe.
Have you tried any Hungarian dishes or drinks yet?
Yes, of course. I love the goulash soup, the chicken paprika, the home made lemonade. I really liked them, I was surprised because I didn't expect this kind of meal.
What is a goal of yours ?
Now that I am discovering that it's so easy to travel I never want to stop.