Lucie Deffenain
April 12, 2018
France, Erasmus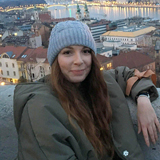 When did you arrive here?
I arrived on February 2, 2018.
In which city are you studying here?
I study at the Budapest campus, near Kálvin tér stop, all my classes are in this building.
Why did you choose Pázmány Péter Catholic University?
I first chose the country I wanted to go to, and Pázmány Péter Catholic University was the partner university of my school in Hungary.
How do you like the university so far?
I appreciate the proximity of the university, moreover it is a university on a human scale, which makes it possible not to feel lost, especially when you are a foreign student.
How much information did you have about Hungary before?
I did research and my French university informed us about the price of life, housing, information concerning administrative papers. I was able to find other information on the website of the Ministry of France.
What were your first impressions here?
I was surprised by the modernity of the city.
Is there anything you do not like so far?
The weather. It is true that it is sometimes very cold. It is nice to see the snow, but because of the cold, it is better to be well covered in winter.
What do you like the most about Budapest?
What I appreciate the most is the architecture, the buildings. And I also like the atmosphere in the evening, the typical ruin bars which are pleasant. Prices are as high as in my home country, which is nice. In addition, there is a large community of foreign students, which allows many meetings.
Where are you from?
I am French.
Have you learned any words in Hungarian so far? If yes, give some examples, please.
I chose the beginner's Hungarian course so I have all the basics (questions, common words, adjectives, say what's my name, basic things seen in class).
What is your major?
Political Science.
Is there something new or interesting that you have learned in your time here so far?
I learned a lot about Hungarian history, not only through my visits to Hungarian museums but also through my classes like Social Policy or Central European Thought and Art.
Have you tried any Hungarian dishes or drinks yet?
I obviously tasted the goulash, cakes "chimney", and other specialties, too.  
Did you like them?
The cake is undoubtedly the best here! The rest is nice to discover when you come, but I would not eat those every day.
What is a goal of yours?
I want to improve my English, discover a new culture, but also travel in the neighbouring countries (it does not cost much).