Łukasz Woiński
October 16, 2019
Poland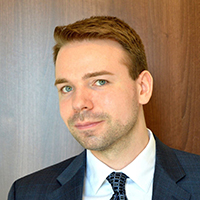 Please, tell us about yourself. Where are you from, what is your major, and what do you study here? Anything, that you think could be important.
I am a PhD student at the Jagiellonian University in Kraków, Poland. My academic interests focus on the borderland region of Transylvania and Hungarian modernist literature. I graduated from Polish Studies and Hungarian Studies at the aforementioned university. I was twice a scholarship-holder at the Balassi Institute in Budapest. I worked in the Cracow office of the Hungarian National Trading House and as a Program Manager at the Wacław Felczak Institute of Polish-Hungarian Cooperation. I am a certified translator of Hungarian literature into Polish. As an Erasmus student I concentrate on my research project and attend some seminars and language courses at the Faculty of Humanities and Social Sciences.
Why did you choose to come to Budapest and Pázmány?
My aim is to gather information for my dissertation and to consult my research hypotheses with the experts. Studying here gives me a great opportunity for that.
How do you like Pázmány Péter Catholic University so far?
What I like about Pázmány Péter Catholic University is the attitude of university staff who turned out to be very obliging and helpful.
Do you enjoy studying here?
I do enjoy studying here. University buildings are impressive and lecture rooms are fully equipped. The atmosphere between students is friendly and collaborative.
Is this your first time in Budapest? Have you travelled a lot?
I had a chance to spend three years in Hungary before I decided to study at the Pázmány Péter University. I have already visited many places across the country.
How much information did you have about Hungary before?
I gratuated from Hungarian Studies, I speak the language and I travelled to many places in Hungary, so actually I knew quite a lot about the country before I decided to study at the Pázmány Péter Catholic University.
What were your first impressions here?
I was impressed by the architecture in Budapest, but also by kindness of the locals.
Have you tried any typical Hungarian dishes or drinks? How do you like them?
I am a huge fan of Hungarian desserts. My favourite one is called somlói galuska. In my opinion it deserves to become as popular in my home country as another Hungarian speciality: kürtőskalács.
Do you miss anything from your hometown?
Of course I miss my family, but I plan to show them all the beauty of this fantastic place when they visit me here.
Are you content with the programmes and social events the university organizes for international students?
The university organizes many programmes and social events, so I think every international student can find something interesting.
Have you learned any Hungarian words yet?
I know many Hungarian words. One of my favourites is: tutyimutyi.
What is a goal of yours?
My main goal is to write my doctoral dissertation. I am also a translator of literary works, so I try to keep up to date with Hungarian book market. Studying in Budapest gives me a chance to discuss professional issues with writers, publishers and other translators.