Luren Costa
April 24, 2019
Peru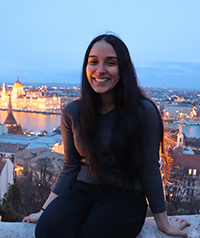 Please, tell us about yourself. Where are you from, what is your major, and what do you study here? Anything, that you think could be important.
My name is Luren and I'm Peruvian. My major is psychology and I'm also attending some seminars from the politics degree in the Faculty of Humanities and Social Sciences.
Why did you choose to come to Budapest and Pázmány?
I did my first exchange in Málaga, Spain and even when I enjoyed a lot the time as an international student there, I wanted a more challenging experience by studying in another language. When I checked the agreements that my home university had in this part of Europe, there was this university and one in Pécs, I obviously chose Budapest because its beauty and the good connections in the airport.
How do you like Pázmány Péter Catholic University so far?
I have already done two semesters here and I have nothing to complain about. Classrooms are modern and the campus is very well located so it's easy to move around the city even with a busy schedule. I have some classes in the Tárogató building, which was a bit of a hassle when I had to choose my subjects this semester, because it takes longer than the break we have (15 minutes) to arrive there.
Do you enjoy studying here?
Yes. There is an amazing library nearby which is perfect to study or do assignments between classes. Teachers are good in their fields, patient with foreign students and always willing to give a hand.
Is this your first time in Budapest? Have you travelled a lot?
It's my first time in the country. I wanted to come here since the past Easter holidays when I was hitchhiking in Bulgaria. I saw pictures of the parliament and the city seemed really tempting, but I chose to go down to Istanbul instead, because of a promising weather forecast. I never imagined that I would live here for almost a year though. I have traveled a fair amount, mainly in Europe, where is really easy to move around, also in my country and Australia. I'm eager to do a long journey across Asia as soon as I finish my degree.
Have you tried any typical Hungarian dishes or drinks? How do you like them?
The first thing I tried when I just arrived here was kürtőskalács, yummy. Then a Hungarian friend invited for my birthday some shots of hazelnut liquor that I considered pálinka for a long time, then discovered it wasn't. I like szilvapálinka most than the others but all of the flavors are nice, I haven't tried Unicum as I'm not sure if I'd like it, they say it's too strong. Just yesterday I tried lecsó and I loved it, I still need to try goulash before I leave. Luckily everything that I have tried here has always been delicious.
Do you miss anything from your hometown?
I haven't been in Peru in more than a year now, so I obviously miss my family more than anything, but also the food, there are some basic ingredients for my traditional cuisine that is impossible to get here. There is a Peruvian restaurant in the city, owned by people from my country but the food just doesn't taste the same.
Are you content with the programmes and social events the university organizes for international students?
Yes, I like the activities they organize for students, like international evenings and day-trips to cities nearby. I think this university makes a great balance of studying and time off.
Have you learned any Hungarian words yet?
I couldn't take Hungarian lessons so I only know very basic ones, what you always hear in public transport as végallomás and then few numbers. It's very easy to survive in Budapest just saying szia, köszi and bocsi. Most of the people I've met here take as a proof of fluent Hungarian if you can say Harminckettesek tere.