Ágnes Környei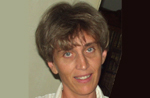 Office:Sophianum 310

E-mail: kerenyine.kornyei.agnes@btk.ppke.hu

Ágnes Környei is an Associate Professor at the Department of International Studies at the Institute of International Studies and Political Science. She holds a PhD from the Budapest University of Economic Sciences and Public Administration on Political Science/International
Relations. She received her MA in International Relations from the Budapest University of Economic Sciences.
She held a scientific grant at the Teleki László Institute, Centre for Foreign Policy Studies between 2001 and 2002 and the Bolyai scholarship of the Hungarian Academy of Sciences for
the periods of 2003-2004 and 2007-2009.
Since 2004 she takes part in academic life as a member of the Public Body of Hungarian Academy of Sciences and an elected member of its scientific committee, the Committee on International and Development Studies (2011-2014). She is also a member of the Foreign Affairs Society of Hungary.
Her research interest and teaching experience include International Relations Theory, Human Rights and Cultural Diplomacy. Her major research areas consist of the universal and regional human rights systems (UN, CE, EU, OSCE, CIS, OAS, AU), the soft forms of norm diffusion and international cultural cooperation (cultural heritage and identity-building).