Amarilla Kiss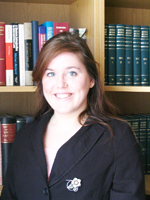 Office: Sophianum 310
E-mail: kiss.amarilla@btk.ppke.hu
She graduated as a lawyer at the Faculty of Law at the University of Szeged in 2007. Between 2007 and 2010 she received a state scholarship as a PhD-student at the Doctoral School of International Public Law, European Law and International Private Law at the University of Szeged.
Her research fields are the prohibition of use of force, non-intervention, the Security Council, the application of international law in domestic law, particularly in connection with the publication of the resolutions of the Security Council. Maritime law, more exactly maritime piracy and the situation of Somalia also belong to her research interests with a view on the problem of "failed states" as a marginal area between law and political sciences.
Between 2008 and 2010, she was an active organizing member of ELSA (European Law Students' Association) Szeged. Currently, she is the member of the United Nations Association of Hungary (UNA).