András Rácz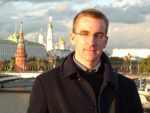 Office: Sophianum 310

E-mail: racz.andras@btk.ppke.hu
After finishing Veres Péter High School in Budapest, he received an M.A. in History at Eötvös Loránd University, Faculty of Humanities, and another M.A. in Political Science at the Faculty of Social Studies, both in 2004. He defended his Ph.D. in History in 2008.  During his graduate and post-graduate studies he was granted various scholarships and studied in the United States, Latvia, Lithuania, Poland and Belarus.
Between 2004 and 2006, he held a scientific grant at the Teleki László Institute, Centre for Foreign Policy Studies. From 2007 he worked as a research fellow at the newly established Hungarian Institute of International Affairs. Since 2009, he has been working at the Strategic Defense Studies Center of Zrínyi Miklós National Defense University. He has acquired teaching experience at Pannon University and Kodolányi János University of Applied Sciences.
His research fields of interest are the foreign, security, and defense policies of the post-Soviet states and the foreign and security policy of Hungary. Besides Hungarian, his mother tongue, he is fluent in English and Russian, and has an intermediate knowledge of German as well.