Dóra Győrffy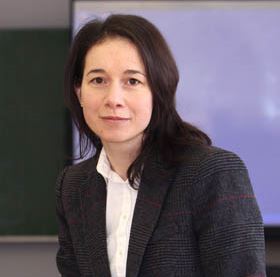 Office: Sophianum 305

E-mail: gyorffy.dora@btk.ppke.hu
Dóra Győrffy is Professor at the Pázmány Péter Catholic University in Hungary. She has a BA degree in government from Harvard University, and received her PhD in International Relations and European Studies at the Central European University in 2006. She habilitated in 2009 at the University of Debrecen and obtained a Doctor of Science degree from the Hungarian Academy of Sciences in 2015.
She taught at University of Debrecen, Faculty of Economics as an assistant professor until 2010, when she joined the faculty of Péter Pázmány Catholic University. She is teaching courses on international finance, comparative economics, economic policies of the European Union and research methodolgy.
She received the Bolyai Fellowship from the Hungarian Academy of Sciences in 2007 and 2013. She was fellow at the Collegium Budapest in 2011. Her research concerns the political economy of fiscal reforms, European monetary integration and financial globalization. Her articles appeared in Acta Oeconomica, Hungarian Economic Review, Europe-Asia Studies, Hungarian Economic Review, Post-Communist Economies, Zeitschrift für Staats-und Europawissenschaften. She has published two monographs: Democracy and Deficits: The New Political Economy of Fiscal Management Reforms by Akadémiai Kiadó, Budapest, 2007; Institutional Trust and Economic Policy: Lessons from the History of the Euro by Central University Press, Budapest and New York, 2013.
She has been secretary of the Economics Committee of the Hungarian Academy of Sciences since 2011. She is also member of European Association of Comparative Economic Studies.