Gusztáv Báger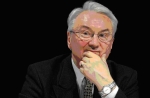 E-mail: bager.gusztav@btk.ppke.hu
Graduated in 1961 at the University of Economics "Marx Károly" in Budapest. In 1971, Professor Báger obtained his PhD. In 2001, the Doctoral Committee of the Corvinus University of Economics (Budapest) declared him as a habilitated doctor in economics. The same year he was nominated ordinary professor at PPCU.
Professor Báger is interested in researches on the principles of the global development, with a specific interest on the public and private sector's newly formed co-operation mechanisms and the transparency of the public finances.
Professor Báger's scientific results, while being the chief director of the National Audit Office's Development and Methodological Institute, are re-conducted to the practical works.
Professor Gusztáv Báger is one of the founders of the International Studies BA program at our university.