Máté Botos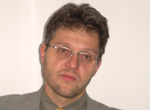 Office: Ambrosianum 201
Phone: +36 26 375 375 ext. 2884
E-mail: botos.mate@btk.ppke.hu
Originally graduated in 1992 at Eötvös Loránd University in archaeology and history, Máté Botos' interests turned to the relations of politics and religion due to the events of 1989-1990. With the grant of the HAS between 1992 and 1995 he made researches in that field in Hungary and also in France, Belgium and Switzerland. In 1996, he obtained a degree in Paris, at the Ecole des Hautes Etudes en Sciences Sociales, in sociology of religions. Máté Botos obtained his PhD in 1998 in Budapest on history of the political ideology of the social Catholicism. He is teaching at the PPCU since 1996, his current position is assistant professor.
He is guest professor at Marne-la-Vallée University, France (2007), member of the Hungarian Society of Political Sciences, the Hungarian Society of History, also member of the scientific committee of the international REGIMEN group (Réseau d'Études sur la Globalisation et la Gouvernance Internationale et la Mutation de l'Etat et des Nations). He is also an ancient member of the Diplomatic Corps of Hungary (1992-94), attaché at the Hungarian Embassy of Bern.
His field of research focuses on the political Catholicism, the European Christian democracy and the historical backgrounds of these political movements.