Tamás Nyirkos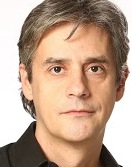 E-mail:nyirkos.tamas@btk.ppke.hu
He earned an MA in philosophy at the Eötvös Loránd University in 2007 with honors, and a PhD in Moral and Political Philosophy at the Doctoral School of Philosophy at the Eötvös Loránd University in 2011 with a summa cum laude degree. Dissertation title: "Christianity and Conservatism: Theology of the French Counterrevolution".
His research interests include democratic theories, political theology and the history of political philosophy.
Between 2007 and 2010 he taught classes at the Eötvös Loránd University in political philosophy, philosophy of religion and medieval philosophy. In 2013 he was a visiting scholar at the University of Notre Dame, USA. Between 2014 and 2017 he was a visting lecturer at the Catholic University of Portugal, the University of Lapland, and the Babes-Bolyai University in Cluj-Napoca.
He is a member of the Public Board of the Hungarian Academy of Sciences.
Personal website: https://nyirkos.com