Tamás Szigetvári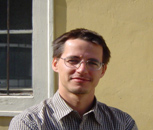 Office: Sophianum 311
E-mail: szigetvari.tamas@btk.ppke.hu
Tamás Szigetvári obtained his MSc degree in Economics at the Budapest University of Economic Sciences (BUES) in 1996. His PhD dissertation written in International economic relations was honoured with Summa cum laude at the BUES in 2003.
Since 1996, he is a research fellow (senior research fellow since 2003) at the Institute for World Economics of the Hungarian Academy of Sciences. His major research interest focuses on: Infrastructures and services in international comparision; Regional developments in Hungary and in the world economy; Developments in Turkey, in the Mediterranean countries and in the Caucasean countries and the European Union's policy towards these countries.
Between 2002 and 2010 he was teaching (as senior lecturer and later as associate professor) at the Collage of International Management and Business Studies of the Budapest Business School. Courses: International economics (both in English and in Hungarian); Global business environment (in English);  Regions in the World Economy; Integration theory and the practice of the EU.
He spent a fellowship year in the Habib Bourghiba Institute (Tunis) in 1993-94 and in the German Orient Institute (Hamburg) in 1999-2000.