Zoltán Pereszlényi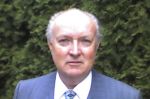 Office: Sophianum 310
E-mail: pereszlenyiz1@t-online.hu
He obtained his university degree as an "expert in international relations, specialist of Eastern countries" after six years of academic studies and training in diplomacy. He has high degree in Arabic, English and Russian and he also learnt German, French, Latin and Esperanto. In 1974/78 he graduated from the Institute of Political Science in the line of diplomacy.
In 1966 he started his public service in the Ministry of Foreign Affairs at the Department of Arabic and African Countries and then he held positions like Head of Sections, Deputy Director and later Director General of the Department. In 1993 he was promoted to the rank of Deputy State Secretary of the Ministry of Foreign Affairs and was responsible for Hungary's relations with countries outside of Europe and also supervised the activities of various departments of the Ministry (like consular affairs, administration, financing, protocol, security, etc.)
His first diplomatic assignment abroad was in Egypt in 1969/73 as cultural attaché. In 1981 he was appointed Ambassador Extraordinary and Plenipotentiary and represented Hungary in Iraq, Egypt, the Sudan, Syria, Lebanon and Jordan ( in 1981/86; 1989/93; 1995/2000.) He accomplished several diplomatic commissions also in Latin-America, Africa as the personal representative of the President of the Republic. On his own will he retired on pension as Chief Special Adviser in 2002. The President of the Republic bestowed upon him the Medium Cross of the highest Hungarian award, the Order of the Hungarian Republic "as a recognation of his outstanding performance as Ambassador and also as a high-ranking official of the Ministry of Foreign Affairs".
Beside his official works he held lectures in the Ministry, at diplomatic studies' courses of universities, colleges, scientific conferences on subjects: histrory of diplomacy, management of international crises, possibility of dialogue between religions and Churches for the sake of peace and security, culture of behaviour, diplomatic etiquette and protocol, professional and human requirements of foreign service assignment.
Among other civil and scientific organizations he is a member of the Foreign Affairs Society of Hungary, the Presidency of the Hungarian-Egyptian Friendship Society, the Munich based Middle East Study Group, Vice-Chairman of the Hungarian-Arab Friendship Society, acting Chairman of the Advisory Board of the Middle-East Research Foundation.