Barnabás Guitman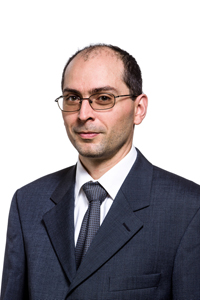 Barnabás Guitman received his MA in History and Latin (Classical Philology) from Pázmány Péter Catholic University in 2002. His PhD dissertation, defended at PPCU in 2009, examines the first decades and the connections of the reformation in Bártfa (Bardejov).
His research interests include confessional history in Hungary and Central Europe, history of the Catholic and Lutheran Church in Hungary in the early modern age, history of the town Bardejov (Bártfa), the Hungarian Kingdom and the Habsburg Monarchy, Hungarian-Slovak relations. He researched in the archives of Budapest in Hungary, Vienna in Austria, Bardejov, Banská Bystrica, Levoča, Prešov, Tisovec in Slovakia, Cluj, Gherla, Dumbraveni in Romania. The results of his research have been published in articles and edited volumes as well as presented at conferences.
He started teaching at the Institute of History at PPCU in 2003. He offers courses early modern Hungarian history, early modern European History, Hungarian and Latin Paleography, Hungarian social history in the early modern age, basics of informatics and History.