Gábor Gángó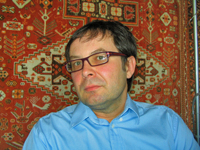 Office: Sophianum 305.

E-mail: gango.gabor@btk.ppke.hu
Gábor Gángó obtained his MA in Hungarian studies and history at the ELTE Budapest University in 1991. In 1997, he was promoted in literary studies (C.Sc.) at the HAS and in 2004 in philosophy (Ph.D.) at the Postdoctoral School of Philosophical Studies at the ELTE Budapest University. He was given venia legendi at the University of Debrecen in 2002, the title Doctor of the HAS in 2006, and full professorship in 2012.
Previously, he taught at the University of Szeged and at the University of Miskolc. As an academic researcher he worked at the Institute of Literary Studies of the HAS; recently he is scientific advisor at the Institute of Philosophy of the HAS Research Centre of the Humanities. His research fields encompass political theory, history of international relations, history of political ideas in Hungary and East-Central Europe as well as 17th-20th century history of philosophy.
He is member of the HAS Domus Board, the International Studies Association and a number of scientific associations in Hungary.
As a visiting professor, visiting scholar or conference participant Gábor Gángó worked in Canada, Argentina, and in the majority of Western and East-Central European countries. His books and articles have been published in Hungarian, English, French, Polish, German, Romanian and Spanish languages.
Complete list of publications and citations >