András Cser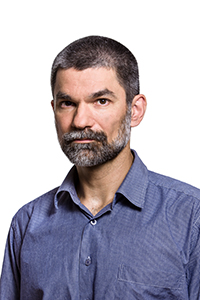 What is your area of research? How long have you been working in this field? How long have you been lecturing at PPCU?
I do research on phonology, morphology, languages change and the history of linguistics. My focus has been on the phonology and morphology of Latin for a while now, but I have always tended to be rather eclectic in choosing my research topics. I started teaching at PPCU in 1994, when I was, in fact, still a student. I taught compulsory Latin in the first two years, then the history of English and a variety of theoretical subjects, many of which have been my remit ever since. I teach phonology, morphology, the history of the English language and the history of linguistics on a regular basis.

When you were a university student yourself, did you ever study abroad? If you did, what courses did you take?
Immediately after graduation, as a PhD student, I spent a full academic year at Cambridge, where I studied the history of linguistics and started working on my dissertation, which was on historical phonology (mainly of the Germanic languages).

How did you choose the country and the university, and how much information did you have about the courses and the lecturers before your visit?
It was through personal contacts that I chose to go to Cambridge (or did Cambridge choose me?). I attended Vivien Law's lectures on pre-20th century linguistics and Peter Matthews' course on structuralist linguistics. They were both among the greatest in their fields and I am very grateful that I was able to personally meet them and especially that I received personal tutoring from Vivien Law, who was very accessible and personable – besides being simply the best medievalist in the world. It is a huge loss that she died so young a few years later. I also attended the Indo-European linguistics seminar at the Classics department, which was a unique combination of a friendly atmosphere and an intellectually challenging and enriching environment, with some of the world's best Indo-Europeanists and Latin linguists.

Have you got any recent teaching experience at foreign universities and with the students of these universities?
I have done short teaching stints at a variety of universities (Munich, Eichstätt, Edinburgh, Helsinki). At some, I gave lectures to large groups and was not really able to establish a personal rapport with the students; at some, I gave seminars and had more immediate contact and feedback. But regardless of these differences, I have always found these teaching experiences very rewarding both because of the students and because of the colleagues.

Are you able to make time for your foreign students out of the tight timeframes of the lectures?
I always offer them the opportunity to either come in my consulting hours or approach me via e-mail if they need personal advice or tutoring. In this there is no difference for me between guest students and Hungarian students.

Can you contribute to broadening your foreign students' horizon about Hungary and Hungarian culture?
I only do it occasionally and anecdotally, since my courses do not have a Hungarian focus.

Could you mention any differences between Hungarian and foreign students in terms of their needs or expectations?
That depends very much on where the student comes from, but even then there may be huge differences between students from the same country, so I cannot generalise.

How can you introduce your foreign students to our university, its past and its spirit?
Quite frankly, I think very few students are interested in the past of the university. Is it a good place to be? Is it a good university to study at? Is it an intellectually nurturing environment? Is it an environment in which you can personally grow? If the answer to these questions is no, does it matter what happened here twenty or two hundred years ago? If, however, they find that the answer is yes, and if they sense that their teachers contribute to their students' intellectual as well as personal growth, or at least are making a serious effort to do so – which brings us to the spirit of the university – they may become interested and be tempted to immerse themselves in our history, which, of course, is extremely interesting.

Do you ever give your Hungarian students advice on where to spend their Erasmus scholarship? What aspects do you take into consideration when you do so?
If they ask me for advice I certainly do not turn them down. I usually try to steer students towards universities with a strong academic profile, but even if that does not work out I tell them that it is always a good thing to spend some time abroad, even if you only learn subjects you could learn at home too. Broadening your personal and intellectual horizon is paramount.

Last but not least, when you have spare time, how do you usually spend it?
Spending time with my family, reading novels (at present mostly by John le Carré), hiking.