Armando Nuzzo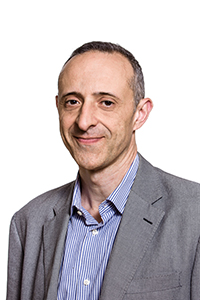 What is your area of research? How long have you been working in this field? How long have you been lecturing at PPCU?
My research areas are Medieval Latin, Humanistic Philology and Hungarian Literature. My first important work on Hungarian literature was a book about renaissance poet Bálint Balassi, published in Bologna in 1994. My first key contribution to the field of Latin Philology was in Florence in 2003, a critical edition of public letters written by the Florentine chancellor Coluccio Salutati. I have been teaching at PPCU since 2005.
When you were a university student yourself, did you ever study abroad? If you did, what courses did you take?
Yes, I did. During my studies in Italy I received some grants and had the opportunity to study in Hungary (Hungarian Language and Literature, as well as Slovakian Language and Literature).
How did you choose the country and the university, and how much information did you have about the courses and the lecturers before your visit?
Because I was a Hungarian Language and Literature student I wanted to study in Hungary. At that time (between 1986 and 1990) I was not given any choice regarding universities as the Italian and Hungarian foreign ministries managed the whole process. In fact, I hardly had any information about the courses I was going to attend. In addition, I had the chance to attend two summer courses on literary translation in Hungary.
Have you got any recent teaching experience at foreign universities and with the students of these universities?
Over the last five years, I have taught courses at two Italian universities, Catholic University of Milan and La Sapienza University of Rome.
Have you been a guest lecturer at any universities abroad? Do you have work experience with teachers/instructors at foreign universities?
I was a researcher at La Sapienza University of Rome in 2015 and 2016. Thanks to the Erasmus program, I also taught some courses as a visiting professor at the Catholic University of Milan.
How easy is it to find the way to your guest students, to reach them and to get on with them?
I find it very easy to work with guest students nowadays. I find they play a very important role in the development of different teaching and learning methodologies.
Are you able to make time for your foreign students out of the tight timeframes of the lectures?
I always make an effort to dedicate my time outside of lectures to my students, making no distinction between Hungarian and foreign students.
Can you contribute to broadening your foreign students' horizon about Hungary and Hungarian culture?
Yes, I think I can help them, and in a slightly different way to how my colleagues can, as I was not born or raised in Hungary.
What do you like about teaching foreign students?
I like that foreign and Hungarian students mutually inspire each other.
Could you mention any differences between Hungarian and foreign students in terms of their needs or expectations?
No, I think globalization has made us all very similar, but especially young people.
How can you introduce your foreign students to our university, its past and its spirit?
I try to ensure the highest quality of teaching and I try to be helpful. I think this is the best way to represent the spirit of our university.
Do you ever give your Hungarian students advice on where to spend their Erasmus scholarship? What aspects do you take into consideration when you do so?
Yes, generally the students ask me for information about Italian universities and about living in Italian cities. I try to advise them according to their interests and individual career pathways.
Last but not least, when you have spare time, how do you usually spend it?
There are always jobs to do at home… However, I love spending time with my family and friends. I like going to the opera or to classical and jazz concerts. Once a week I go to play pool.