Balázs Surányi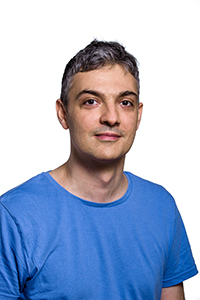 What is your area of research? How long have you been working in this field? How long have you been lecturing at PPCU?
I am a theoretical linguist. My main area of research within linguistics is syntax, a central component of the grammar of human languages.
I have worked both within syntax and at its interfaces with information structure (the structuring of given, topical, new, or contrasted information within sentences) and sentence prosody (the stressing and intonation of sentences of different types).
More recently I have developed an interest in employing experimental methods to address linguistic questions of theoretical significance, especially in the area of sentence intonation and sentence interpretation.
When you were a university student yourself, did you ever study abroad? If you did, what courses did you take?
Erasmus is a wonderful opportunity today, which, unfortunately, didn't exist when I was an undergraduate student myself. But after graduating I moved to Utrecht, the Netherlands, to do my PhD. The University of Utrecht was, as still is, an outstanding centre of excellence in theoretical linguistics, with top notch professors and with an international studentship. I took a varied set of courses in linguistics while I was studying there, which included courses in practically all the major areas of linguistics, both foundational and, in my own area of specialization, highly advanced. Looking back today, I think that getting immersed in a variety of perspectives on the study of human language as a student has helped me acquire an open mind as a scholar to competing theoretical approaches as well as the constantly emerging new developments in my own field of research.
How did you choose the country and the university, and how much information did you have about the courses and the lecturers before your visit?
First of all, I know I wanted to stay within Europe – the other natural alternative in my field being the US. I started to ask around. I asked both my own teachers in Budapest, as well as foreign professors, who I'd met at international summer schools in linguistics. I also asked recent graduates who had studied at universities in Western Europe. They told my about the best graduate schools, and their profiles. I was considering both the Netherlands and the UK, but the Netherlands had several first class research centres with reputable PhD programs. The University of Utrecht was, and still is, one of the strongholds of theoretical linguistics in Europe, and so Utrecht was my top choice. It was really competitive, so I was very happy when, some weeks after my personal interview, I got their letter of acceptance.
Have you been a guest lecturer at any universities abroad? Do you have work experience with teachers/instructors at foreign universities?
I was invited for the Fall semester at the University of Potsdam as a full professor about five years ago, and a year or two later I spent some more time there, as well as at the University of Frankfurt, as a researcher. I got to know some wonderful people in both places, and some of my later work is based on the experience I had from there. But I have been in active contact with many researchers from a number of universities. Sometimes we go on short study trips to visit each other, which also contributes to my work. Some of this actually takes shape in the form of joint publications with them. But more and more of this is taking place now over the internet, be it via lengthy email exchanges or skype meetings. These are very time (and of course cost) effective ways to pursue joint research ideas.
Your lectures here, at PPCU, are very popular with foreign students. To what reasons do you attribute this?
I wasn't really aware. I actually like it very much when my syntax courses are attended by foreign students. Learning about the principles that govern the structure of sentences, say, in English, can be informed by comparisons to other languages. When I have some knowledge of the syntax of the language of the foreign students in my class, I invite them to make a quick comparison between what we are looking at in English and how the same thing works in their own language. This not only sheds light on how English may be similar to some other European languages, it sometimes also illuminates how English is special. (Indeed, in some ways English is a very exotic language!) By making such comparisons, foreign students might also feel that they have discovered something about their own mother tongue. This involvement in discovering linguistic patterns may also bring the study of English syntax closer to them.
What do you like about teaching foreign students?
Erasmus students are actually not so very different from Hungarian students. The cultural differences are not obvious in the classroom, at least. They obviously come from a different educational system, but their background in English grammar and in linguistics is very similar. What I like about them is that they typically take their coursework very seriously, and they are very open minded. For some of them, either the material or the way it is presented in my classes might be new, or simply different from what they have experienced at their home universities, which makes them interested. And after all, this may be a chief part of any student's motivation to go and pursue studies abroad!