Benedek Péter Tóta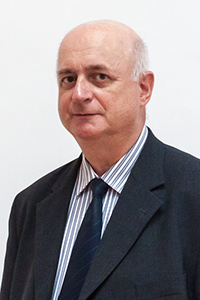 What is your area of research? How long have you been working in this field? How long have you been lecturing at PPCU?
I have been interested in English literature since my years at the secondary school. My field of research is literature since the start of modernism to the present, mainly the oeuvre of T. S. Eliot, Ted Hughes, Seamus Heaney and Kazuo Ishiguro. I have been working in this field for 25 years. I have been lecturing at PPCU for 25 years.
Your lectures here, at PPCU, are very popular with foreign students.
I think this "popularity" is very relative. However, the reason for this is probably due to their interest in modernism and contemporary literature.
How easy is it to find the way to your guest students, to reach them and to get on with them?
Whenever they have any questions, I am ready to answer and inform them.
Are you able to make time for your foreign students out of the tight timeframes of the lectures?
The foreign student adjust themselves to the regular routine of our native students.
Can you contribute to broadening your foreign students' horizon about Hungary and Hungarian culture?
If there is a chance included in the topic – as far as English literature incorporates any links to Hungarian literature, e.g., Ted Hughes's translation of János Pilinszky's poetry into English, or Seamus Heaney's surprising late interest in Attila József's poetry in Peter Zollman's translation, or Kazuo Ishiguro's Hungarian references in his fiction.
What do you like about teaching foreign students?
Well, I am glad when students from Poland appear because my grandmother came from Poland more than a century ago.
Could you mention any differences between Hungarian and foreign students in terms of their needs or expectations?
Not really, though the command of English should have been improved by students from Turkey.
How can you introduce your foreign students to our university, its past and its spirit?
I have entertained the idea that the university's office for foreign affairs provides professional reception and introduction for the foreign student, however, my conduct and the content of my words in harmony with Christianity, with the teachings of the Roman Catholic Church, and with Péter Pázmány's intention can suffice.
Do you ever give your Hungarian students advice on where to spend their Erasmus scholarship? What aspects do you take into consideration when you do so?
I think the students' interests and intentions should provide the guidelines in making their choice.
Last but not least, when you have spare time, how do you usually spend it?
I like listening to music – mainly Bach, Bartók and Kurtág.