György Domokos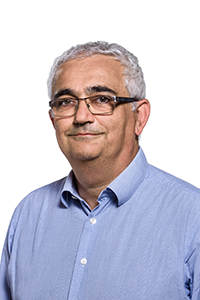 What is your area of research? How long have you been working in this field? How long have you been lecturing at PPCU?
I am originally an italianist and a linguist, dealing mainly with the history of Romance languages and dialects, but I shifted gradually towards philology of historical sources. Now I am head of a research group (Vestigia) that is searching, editing, organizing in databases archivistic sources in Italy,related to Hungarian history and literature. Our research started in 2010, and we work mainly in Mantua, Modena and Milan State Archives but also in minor collections. I have been teaching at PPCU right from the beginning, that meens, from 1995.
When you were a university student yourself, did you ever study abroad? If you did, what courses did you take?
In 1985 I had a one month grant to study Italian language at Perugia, and in 1988 I learned and wrote my thesis in Milan. During the period of my doctorate studies I spent another longer period in Milan and Pisa. I studied philology, theology and linguistics, but I mainly studied in the libraries, on my own.
How did you choose the country and the university, and how much information did you have about the courses and the lecturers before your visit?
I chose Milan because I had friends in this city and I wanted to attend to the lessons of a great personality, whose books I were translating that time.
Have you got any recent teaching experience at foreign universities and with the students of these universities?
Yes, I regularly use Erasmus and CEEPUS mobility and also Norwegian Grant or Swiss mobility to accumulate experiences. I taught in Cracow, Bratislava, Olomouc, Genova, Verona, Milan, Fribourg, Ljubljana, Oslo and Ruzomberok.
Have you been a guest lecturer at any universities abroad? Do you have work experience with teachers/instructors at foreign universities?
I am in constant touch with my collegues abroad in these universities and we exchange materials and methods also when they come to teach to our Department.
Your lectures here, at PPCU, are very popular with foreign students. To what reasons do you attribute this?
Well, the students choosing Hungary in most cases lach informations and they wish to get acquainted with our history. It is amazing to visit the sited where we do our filed trips (old libraries and archives).
How easy is it to find the way to your guest students, to reach them and to get on with them?
Our Erasmus team is quite efficient and I had no major problems. Of course, it is sometimes difficult to get around with a group with students of very different cultural backgrounds, but I think it is a positive challange for me.
Are you able to make time for your foreign students out of the tight timeframes of the lectures?
In the first half of the semester we do some introductory classroom lectures, then we go to field trips and it is a good occasion for making acquiantance. In the second half of the semester they work individually with my help, and tutorial work is also a great chance to meet them when they work on their own topic.
Can you contribute to broadening your foreign students' horizon about Hungary and Hungarian culture?
Surely, I hope so at least. Any site, any old document, any historical event mentioned, any building is triggering a dialogue about Hungary.
What do you like about teaching foreign students?
I like students who ask questions. Of course, coming from abroad is interested and I like very much telling about our land and culture.
Could you mention any differences between Hungarian and foreign students in terms of their needs or expectations?
Well, that depends on a lot of things - even students coming from the same university or country can be wholly different. I recognize already the basic differences of the education systems they come from.
How can you introduce your foreign students to our university, its past and its spirit?
I think it is not my task: they should be introduced by their fellow students!
Do you ever give your Hungarian students advice on where to spend their Erasmus scholarship? What aspects do you take into consideration when you do so?
Depending on what they want to study and what is their overall attitude I can give advices, but there are of course important factors I ignore and on which they decide at the end.
Last but not least, when you have spare time, how do you usually spend it?
I like walking or running in the woods!