Kinga Földváry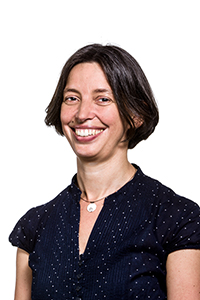 What is your area of research? How long have you been working in this field? How long have you been lecturing at PPCU?
I'm originally a Shakespeare scholar, and I have been working on various aspects of early modern English literature, especially Shakespeare's oeuvre for almost twenty years now, since I started my PhD studies right after university. In the past few years, my research has been focusing on film adaptations of Shakespeare's plays, but I also work on modern and contemporary British literature, popular and visual culture. I have been at PPCU for more than fifteen years now, since 2003.
When you were a university student yourself, did you ever study abroad? If you did, what courses did you take?
No, I never had the chance to study abroad while I was at university. The first opportunity came when I was already a PhD student, and since then I have been abroad quite a lot, but all the grants I have had were research opportunities, so I was mostly sitting in libraries, reading and writing, but took no courses.
Have you got any recent teaching experience at foreign universities and with the students of these universities?
Yes, I have been an Erasmus guest lecturer several times in the past few years, in Finland (Helsinki), and the UK (York and Worcester), where I usually had both lectures and seminars, and we have also tried some virtual discussions in Second Life with the Finnish students, which was also an exciting experience.
Have you been a guest lecturer at any universities abroad? Do you have work experience with teachers/instructors at foreign universities?
Yes, in various types of Erasmus teaching mobility I have tried all kinds of joint projects with foreign colleagues, both when I was visiting other universities, and when they came to visit us and joined our classes here. It was always quite interesting to see the differences between our course structures and topics, but I always felt that there are plenty of similarities between our work and what I have experienced abroad.
Your lectures here, at PPCU, are very popular with foreign students. To what reasons do you attribute this?
Mostly I think it is because of the topics - every semester I have one of the classes specially organised for visiting students, either on Hungarian literature, or on Hungarian and Central European cinema. In my experience, most students are interested in the culture of the country they are visiting, and of course the cinema is always a popular topic - but I also try to make the classes interactive, and encourage them to join in the conversation, which they usually enjoy. It is also true that sometimes students have recommended my classes to their friends who came to PPCU the next year, which was the best possible feedback, and made me very happy.
How easy is it to find the way to your guest students, to reach them and to get on with them?
Most of the time I find it quite easy - I am truly interested in students' opinion about the works we discuss, and since these classes are international ones, this in itself creates a colourful and exciting atmosphere, where sometimes we have lively discussions. Some students are a bit shy, mostly because of their language problems (the classes are held in English, and not all of them are English majors), but I also try to convince them that these are not language courses, and their opinion matters more than their language errors. I also try to give feedback to all their comments and homework assignments, which also seems to be a good way to get them involved.
Are you able to make time for your foreign students out of the tight timeframes of the lectures?
If they approach me with any question, either in person, or by email, I always try to find the time for them - and I'm very happy when some former students contact me after they returned to their home universities. A few years ago, one of my Italian students wrote her MA thesis on Hungarian literature, so we had a few consultations by email, and another Dutch student, who attended several courses of mine here, asked for a reference when she was applying for an interdisciplinary MA course back home. But I have to admit that this does not happen too often, so I have never felt such requests as a burden, they rather made me happy to see that these students enjoyed our courses so much.
Can you contribute to broadening your foreign students' horizon about Hungary and Hungarian culture?
I hope so - these courses are particularly designed with this intention. In the cinema course, I try to choose films which are not only fun to watch (sometimes their topics are rather serious and dramatic), but which deal with important historical events or problems that are characteristic of Hungary or Central Europe, and then we can discuss not only a film but also a bit of history and culture.
What do you like about teaching foreign students?
They always bring a new perspective to the familiar topics, and I often learn a lot from them. These classes are also often more surprising, because students bring ideas that I - or Hungarian students - would never have thought of. I also enjoy sharing great literature and films with students, and it makes me happy to see when they also begin to feel more at home in our culture.
Could you mention any differences between Hungarian and foreign students in terms of their needs or expectations?
It is hard to generalise, because there are many differences between various nationalities, but foreign students are often more active and more involved than Hungarian ones, probably because they also feel that this period is a special opportunity for them and they try to make the most of it. But of course we also have Hungarian students who are equally active and enthusiastic (and sometimes we have foreign students who just want to survive, preferably with as little work as possible, which can be challenging, but I try to find a way to activate them if I can).
How can you introduce your foreign students to our university, its past and its spirit?
This is not something that would come up in the course of a normal class, but whenever the discussion turns to the history of our university, I try to share with them my own experiences of the recent past, and what I know of the previous eras. About the university spirit: I think they can experience it best by meeting our students, and simply participating in student life here. Luckily, I know that there are plenty of programmes on offer, and I see that many of them take the opportunity to go on student trips in and around the country, and make as many new friends as possible.
Do you ever give your Hungarian students advice on where to spend their Erasmus scholarship? What aspects do you take into consideration when you do so?
Yes, whenever they ask me, I try to discuss with them what would be best. It depends on many things: if they wish to go abroad to improve their language skills, then the language of the country is an important aspect, but we also have some information about specialisations at various universities - some of them have great linguistics or medievalist centres, or famous Shakespeare scholars, others are best known for their American studies or visual culture departments, for instance, so if our students have a research interest, or maybe an idea for their thesis, we can also direct them towards an institution where they can benefit from their scholarship in this way as well.
Last but not least, when you have spare time, how do you usually spend it?
Well, this may sound boring, but even in my spare time I love reading and watching films - certainly not only Shakespeare adaptations, but almost anything. I also love music, and earlier used to play the cello in several orchestras, and even sang in a choir, but these days I no longer have the time for that - but every year we sing a few carols at the Christmas party of the Institute with a few colleagues, which is great fun. I also enjoy swimming, cycling, and other (not too extreme) forms of sport, and in the summer I try to spend as much time in the open air as possible, but unfortunately I never have as much time as I would like.