Lee Beaudoen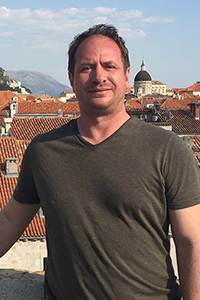 What is your area of research? How long have you been working in this field?
I am a UCLA trained Cultural Historian of the Middle East. I received my Ph.D. from the University of California, Los Angeles in 2017. I focus on Ottoman, Byzantine and Mediterranean History. My research interests include the themes of empire, kingship, narrative, the intersections of literature and history, material culture, historiography and the history of scholarship, I have a Master's Degree from the University of Washington in Museology (2010) and a Bachelor's in Interdisciplinary Humanities from Michigan State University (1998) focusing in English, Russian and Communications. As part of my graduate studies, I took part in three international university communities The Department of Turkish Language and Literature at Boğazici University as a visiting graduate student, Koç University's Research Center for Anatolian Studies as Junior Research Fellow, and Central European University's Department of History as Junior research fellow. 
How have you been involved into Armenian culture? What is so fascinating about it for you?
My interest in Armenian culture came through my training as. a historian, Early on, I became interested in Byzantium and Late Antiquity. I maintained these areas of interest through my graduate studies. While in Turkey in 2008, I began to direct my efforts to the early Ottoman period and the Ottoman-Byzantine transition period. This period demands knowledge not only Ottoman and Greek but also Persian, Arabic and Latin, Eastern languages such as Syriac and Hebrew can support. Armenian, however, bridged the gap. Armenian cultural production flourished throughout Antiquity into the modern period. During the early modern period, Armenians produced and disseminated textual culture across the Mediterranean and Indian Oceans — on a global level. I could not ignore this contribution to world history in my understandings of Late Antiquity, Byzantine and Ottoman History. Armenian culture offers a historical narrative that cuts across the framework of Empire. To be sure, these feels can reciprocate the contributions by adding a broader cultural and intellectual context to our understandings of Armenian history. Armenian texts such as the Armenian Alexander Romance provided an important contribution to a much larger enduring tradition that led up to Ottoman contribution and production of what I have labeled, textual Alexandriana (histories and narrative about Alexander the Great)
To whom do you recommend your lectures here, at PPCU?
I teach both lecture and seminar format courses. I organize my seminars thematically and combine a selection of readings to build a discussion around each weekly theme. This fall semester,  I am teaching courses in history, international relations, political science, and Armenian studies. My courses are best directed toward upper-division Bachelors and Graduate students. That said, I hope to develop some lower-division survey lectures, particular in Ottoman, Middle East, and Mediterranean history. The best audience for my seminars is anyone who wants to read broadly and deeply on a subject. I design some seminars, such as my Ottoman Borderlands seminar, as a tutorial for dealing with the Ottoman borderlands. Ideally, I hope to offer this seminar as followup a more survey lecture course, which will give students a solid grounding in the Ottoman historical narrative. I'm working with the Armenian Studies program to build a similar curriculum in Armenian Studies where more basic courses lay a foundation more specialized courses that can foster both directed research and readings with the opportunity for students to explore their own intellectual and research curiosities. This component is important for those considering grad school or current graduate students. I believe that we write best when we write about the things we are interested in. Students and scholars need to have the opportunities and guidance to explore sources, historiography, diverse narratives, and research methods.
My courses should appeal to history students focusing on the pre-modern and early modern periods of the Mediterranean and the Middle East, but also to students of literature. History and literature intersect through narrative and the narrative process. The historical process focuses to build a cohesive narrative from the documentary and archival sources This process can be messy. Outside factors such as nationalism, cultural and social contexts, issues and trends in scholarship, and the historians' own biases and perspectives can influence it So, both understanding its construction, context and deconstruction are essential. 
What do you like about teaching at PPCU?
Teaching at PPCU has been a real pleasure. I've been able to teach the material to students from a range of disciplines at a private institution that that is well-connected to other universities in the European academic community. The teaching facilities here are up to date. Finally, the faculty and staff have been a please to work with. I look forward to continuing to deepen a sense of collegiality with other departments and institutes across PPKE's campuses. 
According to your experiences: what are the strengths of Hungarian students?
Hungarian students have exposure to a lot of courses. As a result, they have to balance a lot of individual projects and obligations.  In North America and in the other universities in my experience in a semester,  undergraduate students might three or four classes (five or six if they are ambitious). For Graduate students, it's between three and four. The course loads that students have here is unthinkable in the US. There are benefits and drawbacks to both systems. My experience with the Hungarian students is they are bright and able to keep a lot of balls in the air.  My seminars are demanding I have high standards that may differ from what they are used to. These students at PPCU have done their best to meet those standards. For history students, there is geographic advantage. Budapest's central location offers opportunities for history students to access museums and archives. As a result, I've seen BA theses that would be difficult to accomplish in many U.S. Universities at the BA level. This gives a particular advantage to students continuing on in Grad. School since they have had a taste of field early on. 
You speak fluent: English; excellent: Turkish, French, Italian, Russian, Persian, Hungarian; read and speak: Spanish, German, and Arabic; good: Swedish and Greek; read: Ancient and Byzantine Greek, Latin, Classical Armenian, and Ottoman Turkish; basic: Bosnian-Croatian-Serbian, Romanian. The list is impressively long… Where does your passion for languages come from?
Well, Thank you! I've been studying foreign languages for over thirty-five years. I will never stop. They are both a hobby, passion, and tools for research. More than a few times,  I've read grammar books like most people read novels. The number of language learning resources is at a new high so this has made the maintenance a much easier task.
I started at a young age and I have never stopped. I had some great teachers along the way who encouraged me to develop and use my natural talent. One allure for me is that there is always another level of learning a language and living in another culture. For some that is intimidating, but for me, it means I'll never grow bored. 
Last but not least, when you have spare time, how do you usually spend it?
I spend a lot of time walking and reading. I also spend a fair amount of time training in martial arts, most recently Krav Maga, Jeet Kun Do, and Pilipino martial arts. When I'm not doing those things I'm probably planning my next trip for work or for pleasure.