Michael Moser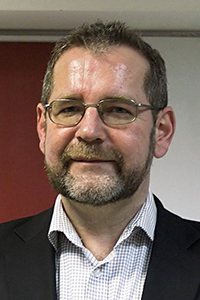 What is your area of research? How long have you been working in this field? How long have you been lecturing at PPCU?
I work in the field of Slavic philology. In Vienna, I began working immediately after my master studies, i. e., in 1991. PPCU hired me in 2010. In Budapest, my work is focused on Polish studies and will be focused on Polish and Russian studies beginning in the fall of 2019. I always situate particular Slavic languages and cultures in a broader Slavic and non-Slavic context.
When you were a university student yourself, did you ever study abroad? If you did, what courses did you take?
When I was a student it was much more difficult to study abroad, especially within a Slavic framework. Moreover, my personal situation was such that I intended to finish my studies as quickly as possible.
How did you choose the country and the university, and how much information did you have about the courses and the lecturers before your visit?
I have been at foreign universities quite often, but not as a student. Everything would have been much more complicated back then for a very simple reason: there was no Internet yet.
Have you got any recent teaching experience at foreign universities and with the students of these universities?
Inter alia, I was teaching in Cracow, Warsaw, Kyiv, Freiburg im Breisgau and Bratislava (apart from Budapest and Munich, where I work regularly). This has always given me a lot of valuable academic and psychological input: students are quite different at various places.
Have you been a guest lecturer at any universities abroad? Do you have work experience with teachers/instructors at foreign universities?
I have been a guest lecturer at quite a lot of universities in countries such as the U.S., Canada, the UK, Germany, Sweden, Ukraine, Poland, the Czech Republic, Slovakia, Croatia and (a long time ago) Russia. At some places, particularly good friendships and cooperations have emerged.
First and foremost, this applies to the Canadian Institute of Ukrainian Studies (Toronto and Edmonton), Harvard University (where I was a fellow for one semester), Bratislava (where I offered several courses within Ukrainian study programs that were organized by one of my favorite colleagues) and, first and foremost, Ukraine (Kyiv and Lviv in the first place), where I cooperate with many colleagues).
Your lectures here, at PPCU, are very popular with foreign students. To what reasons do you attribute this?
I think I have a good understanding of what students of my field should know even if they do not specialize in linguistics. Also, students feel that I like them and appreciate their work.
How easy is it to find the way to your guest students, to reach them and to get on with them?
I do not make any difference between guest students and others. I usually reach my students without any difficulties.
Are you able to make time for your foreign students out of the tight timeframes of the lectures?
This has not happened yet, except for e-mail communication. Theoretically, yes.
Can you contribute to broadening your foreign students' horizon about Hungary and Hungarian culture?
Although I am not Hungarian, I think I can. For instance, I always try to tell our non-Hungarian students something about the important historical and linguistic connections between Hungary and other countries, with an emphasis on Slavic issues.
What do you like about teaching foreign students?
Their most important advantage is that they share their experience with our Hungarian students and always bring in some kind of new spirit.
Could you mention any differences between Hungarian and foreign students in terms of their needs or expectations?
Honestly, I do not see any major differences. Of course, we treat our guests from a broad as polite hosts.
How can you introduce your foreign students to our university, its past and its spirit?
If I do that in class and the context is really appropriate, then I occasionally do that, but I do that briefly.
Do you ever give your Hungarian students advice on where to spend their Erasmus scholarship? What aspects do you take into consideration when you do so?
I am ready to do so, but as a rule, my Hungarian students are able to make their choice themselves. My major criterion is of course the relationship between the student´s profile and my understanding of the academic profile of the potential host institution.
Last but not least, when you have spare time, how do you usually spend it?
I like swimming, sometimes I play the guitar. Also, I like communicating with other people. This is one of the reasons why I love teaching.