Péter Lőkös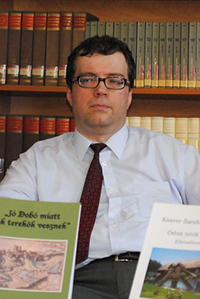 What is your area of research? How long have you been working in this field? How long have you been lecturing at PPCU?
I studied German and Romance Studies at Eötvös Loránd University. Since 1999 I am a university lecturer at the Department of German Studies at the Péter Pázmány Catholic University. My research interests are German-Hungarian or Austro-Hungarian literary and cultural-historical relations or the literature of Transylvanian Saxons in the early modern period.
When you were a university student yourself, did you ever study abroad? If you did, what courses did you take?
As a student of German I had the opportunity in 1986 to study for a semester at the Friedrich Schiller University Jena (German as a foreign language).
Have you been a guest lecturer at any universities abroad? Do you have work experience with teachers/instructors at foreign universities?
As a postgraduate I have been to Austria several times with various scholarships (University of Vienna), where I had and have the opportunity to do research in libraries or archives.
Your lectures here, at PPCU, are very popular with foreign students. To what reasons do you attribute this?
In particular, those courses are chosen that are not offered to foreign students at their university (for example Film Adaptation of Literary Works, Cultural History of the Germans in the Kingdom of Hungary, Baroque Literature).
How easy is it to find the way to your guest students, to reach them and to get on with them?
Most Erasmus students come from Germany, they are always very open-minded and active in the seminars.
Can you contribute to broadening your foreign students' horizon about Hungary and Hungarian culture?
I try – as far as possible – to draw attention to intercultural aspects, for which the students are always very grateful.
Could you mention any differences between Hungarian and foreign students in terms of their needs or expectations?
Of course the German Erasmus students have no linguistic difficulties, they do not need - as opposed to the Hungarian students - the deepening of the language skills.
How can you introduce your foreign students to our university, its past and its spirit?
I always talk to them a bit about our chair, about our research priorities. In addition, I advise them to collect information on the Internet.
Do you ever give your Hungarian students advice on where to spend their Erasmus scholarship? What aspects do you take into consideration when you do so?
I also advise our students to apply for a DAAD or ÖAD scholarship so that they can deepen and improve their language skills and get to know other cultures.