Stipendium Hungaricum mentor profiles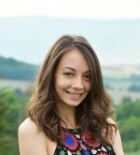 Dear All! My name is Liza, I am a mentor for the students in Budapest! I study psychology at the PPCU. I speak English and German and love to take pictures or paint something in my freetime. Feel free to ask anything via email or Facebook!
Ms. Eliza Kollerits
E-mail: kiskosaras@gmail.com
My name is Viktória, I'm study on Pázmány to become a primary school teacher. Currently I spend most of my time in the Vitéz János dorm in Esztergom, focusing on my studies, my job, becoming self-sufficient and my social life.
As a mentor student I provide help to the foreign students in many little things to make their everyday life smoother and more enjoyable. My duties include orientation, guidance in the vicinity, giving information about our culture, organizing programs, handling medical and dorm documents, and last but not least, keeping contact and bridging other problems in connection with communication between the foreign students and Hungarian residents. In addition to these, I try to stay helpful and positive, to prevent them from feeling alone, and so that in the future they can gladly remember the memories they got here.
Ms. Viktória Fehér                                                                                                                                                  E-mail: feherviki1997@gmail.com